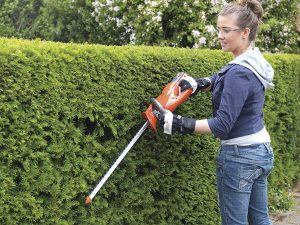 Finding the Best Cordless Hedge Trimmer
Cordless hedge trimmers offer instant start-up, good mobility and convenience. They represent the fastest growing sector in the market. Improvements in battery technology mean that the best cordless hedge trimmer will offer longer life, quicker charging and lower weight than ever before.
Advantages
The big advantage of a battery operated hedge trimmer over a corded model is that you don't have to be near an electrical outlet. You won't have an electric cable dragging behind you getting in the way and restricting your movement. You also have the added safety benefit of avoiding the risk of accidentally cutting a cable.
In comparison with petrol machines, you'll have the same mobility, but without the noise, weight and maintenance problems.
[Keep on reading, or go straight to the feature comparison table, or read the individual reviews]
Disadvantages
The major drawback with cordless hedge cutters is their limited working time. Battery life is in the range of 30-55 minutes. Once the battery is flat it will need re-charging before you can continue working. With Ni-cad batteries, in particular, this can take some time.
This can be overcome by buying an additional battery, but this increases the expense. Batteries may also need to be replaced after several years, which can add to the lifetime cost of this type of hedge trimmer.
The weight of the batteries can make them heavier than electric models, which is a factor to consider if you plan on working for extended periods. Some models allow you to wear the battery around your waist, which can alleviate this problem.
Types of Battery
Batteries for a cordless hedge trimmer come in two types. Lithium-ion (Li-ion) batteries charge quicker than Nickel-cadmium (Ni-cad) batteries, and hold their charge for longer. Some Li-ion batteries can charge in an hour or so. Ni-cad batteries tend to be used in cheaper machines, while Li-ion are used in higher specification models.
Ni-cad batteries can also be prone to the 'memory effect'. This describes the situation in which they lose their maximum energy capacity if they are continually recharged without being fully discharged. The battery 'remembers' the smaller capacity
You will need to make sure that the battery is charged before starting work. This means that you have to plan ahead when using a battery operated hedge trimmer. Unlike a petrol or electric model, you can't decide on a whim to work on your hedges. This is particularly true if your machine uses Ni-cad batteries, which don't hold their charge in storage as well as Li-ion batteries.
'Bare' Models
If you are looking for the best cordless hedge trimmer, make sure that the price includes the battery. Some firms (e.g. Bosch) sell 'bare' models that don't include batteries. This usually applies where they make a range of tools that use inter-changeable batteries. (However, if you already own some Bosch cordless power tools, then it will be worth your while looking for a 'bare' model. It will save you quite a lot of money.)
Feature Comparison Table for Cordless Hedge Trimmers
To help find the best cordless hedge trimmer to meet your requirements we have compiled the following table. You can compare the main features of the different models, and by clicking on the headings you can sort by price range, blade length, cutting capacity, weight and battery type.
Click on the link under the manufacturer heading for each model to find the latest availability and price on Amazon.co.uk.

Read our reviews to find the best cordless hedge trimmer for you.
Cordless Hedge Trimmer Reviews
Click on the link to go to our full review.
Blade length: 540mm
Cutting capacity: 20mm
Weight: 3.5kg
Price range: £210-230