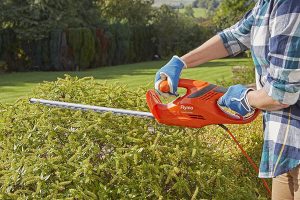 Finding the Best Electric Hedge Trimmer
Electric hedge cutters are the most common and popular choice of hedge trimmer for domestic users. They cope well with most domestic requirements, and offer great value for money. The market for the best electric hedge trimmer is mainly dominated by two of the most well-known names in power tools: Bosch, and Black & Decker.
Advantages
Electric hedge trimmers have a number of advantages over petrol or cordless models. They tend to be lighter, quieter and cheaper, with no practical limit on how long you can use them. Depending upon the model selected, the best electric hedge trimmer can cope with small, medium or large branches.
[Keep on reading, or go straight to the Electric Hedge Trimmer Feature Comparison Table, or read the reviews of individual models]
A major advantage of an electric hedge trimmer is its relatively light weight: unlike petrol or cordless hedge cutters there is no heavy engine, or battery, to carry around. This means that there is less strain on your arms and shoulders, and that you will find it less tiring to use over a long period.
Another benefit is that apart from cleaning the blades after use, an electric hedge trimmer requires very little maintenance.
In comparison with cordless and petrol machines, an electric hedge trimmer offers the benefit of immediate and continual use. There is no need to check if you have remembered to charge the battery, or that you have enough fuel to do your work. If you're taken by a whim to work on your hedges, you can just grab and go with these machines.
The power of electric models is measured in wattage. The higher the wattage the more powerful the machine is.
Disadvantages and Safety Considerations
The only real disadvantage is the cord.
Typically, the length of cord supplied with an electric hedge trimmer is in the 6-10 metre range. Unless you have an outside power source, or your garden is small, this means that you will need to use an extension reel.
From a safety point of view you need always to be aware of the cord when you are using the machine. It can become a bit of a nuisance if you're working amongst hedges and bushes where it can get tangled up. But use a bit of common sense, and this should not really present a problem.
You should always use an RCD (residual current device) power adaptor, which protects you against electric shock if you accidentally cut the cord (unless your whole house is protected by an RCD).
Feature Comparison Table for Electric Hedge Trimmers
To help find the best electric hedge trimmer to meet your requirements we have compiled the following table. You can compare the main features of nearly thirty different models, and by clicking on the headings you can sort the different models by blade length, cutting capacity, weight and price range.
Click on the link under the manufacturer heading for each model to find the latest availability and price on Amazon.co.uk.
Note: The models from Powerplus come with a short safety two-pin 'pig-tail' cable. They would probably need to be purchased along with the Powerplus 10 metre Garden Extension Cable for Garden Power Tools, which costs just £6.95

Read or reviews to find the best electric hedge trimmer for you.
Electric Hedge Trimmer Reviews
Quick comparison: click on the link to go to our full review.
Blade length: 610mm
Cutting capacity: 16mm
Weight: 3.25kg
Price range: £25-35
Blade length: 510mm
Cutting capacity: 16mm
Weight: 2.5kg
Price range: £25-35
Blade length: 600mm
Cutting capacity: 25mm
Weight: 3.8kg
Price range: £45-55
Blade length: 450mm
Cutting capacity: 16mm
Weight: 2.1kg
Price range: £40-50
Blade length: 450mm
Cutting capacity: 16mm
Weight: 2.6kg
Price range: £45-55
Blade length: 600mm
Cutting capacity: 16mm
Weight: 2.8kg
Price range: £55-65