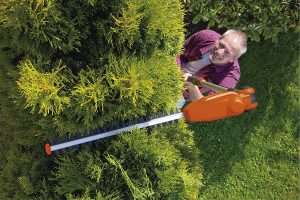 Guide to Finding the Best Long Reach Hedge Trimmer
A long reach hedge trimmer (also known as a pole hedge trimmer or telescopic hedge trimmer) is designed for cutting tall hedges without the need for a ladder or platform. Most models will comfortably cut the sides of a 10-12 feet high hedge. It is a safer option than trying to balance on the top of a ladder with a conventional hedge trimmer.
Long reach hedge trimmers are available in electric, cordless and petrol models.
[Keep on reading, or go straight to the feature comparison table, or read the individual reviews]
A long reach hedge trimmer has a fixed or extendable shaft which allows you to cut above head height. Avoid buying one with a fixed head. The best option is to buy a model with a rotating head which lets you set the cutting blade at angles up 90 degrees to the shaft, which means you can cut the top of the hedge with your feet still planted firmly on the ground.
Extendable or pole hedge trimmers can also cut horizontally, which can be useful if you need to clear ground cover plants and shrubbery. This has the advantage of not having to bend down when working at ground level, which is great for anyone with a bad back.
You can buy a long reach hedge trimmer in cordless, electric or petrol versions. Other things being equal, our recommendation would be to go for a cordless model, because they tend to be lighter and less tiring to use.
However, be aware that there are several disadvantages with a long reach hedge trimmer.
Disadvantages:
Petrol and electric models can be heavy, and it can be hard work and tiring holding one at shoulder-height or above while you're trying to reach the top of the hedge. Unless the model you're considering comes complete with straps, you might want to consider investing in a harness that can take the weight while you work.
You can't actually see what you are doing when cutting the top of the hedge, which can lead to snaring on thicker branches, and makes it difficult to get a good level finish.
If your hedge is wide a telescopic hedge trimmer might not be able to reach the middle, even with access from both sides.
The extra length can make an extendable hedge trimmer harder to manoeuvre than a conventional model.
A long reach hedge trimmer can be a great addition to any gardener's box of tricks. However, if your hedge is more than 12 feet high, and quite wide, you might be better off calling in the professionals! Alternatively, and a safer option than balancing on top of a step ladder, consider getting a ladder platform
and using a conventional hedge trimmer.
Feature Comparison Table for Long Reach Hedge Trimmers
To help find the best long reach hedge trimmer to meet your requirements we have compiled the following table. You can compare the main features the different models, and by clicking on the headings you can sort the different models by blade length, cutting capacity, weight, extended length and price range.
Click on the link under the model heading to find the latest availability and price on Amazon.co.uk.
Note: The models from Powerplus comes with a short safety two-pin 'pig-tail' cable. It would probably need to be purchased along with the Powerplus 10 metre Garden Extension Cable for Garden Power Tools, which costs just £6.95

Read our reviews to find the best long reach hedge trimmer for you.
Long Reach Hedge Trimmer Reviews
Quick comparison: click on the link to go to our full review.
Blade length: 42cm
Battery life: 50 mins
Cutting capacity: 16mm
Extended length: 3m
Weight: 4.7 kg
Price range: £80-90
Blade length: 45cm
Cutting capacity: 20mm
Extended length: 2.7m
Weight: 4.1kg
Price range: £90-100