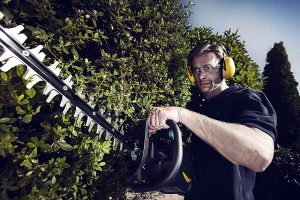 Finding the Best Petrol Hedge Trimmer
Petrol hedge trimmers are the most powerful, the most effective, and the most expensive of the different types of hedge trimmer. They're great for bigger jobs, but they are also heavy and noisy, and they create exhaust fumes.
Finding the best petrol hedge trimmer can be a bit more problematic than looking for a cordless or electric model. Many of the models available are intended for professional use, and hence can be quite expensive, with some costing many hundreds of pounds.
[Keep on reading, go straight to the feature comparison table, or read the individual reviews]
If you are a professional looking for the best petrol hedge trimmer, then you will be interested in these higher-priced machines; but if you're more of an occasional user there are still some good value models available.
The majority of petrol hedge cutters are powered by a 2-stroke engine, whose power is measured in CCs – the larger the number the more powerful the machine is.
Advantages
Designed to cope with heavy duty work and larger branches, petrol hedge cutters will deal with work beyond the capacity of a cordless or electric machine. They are the most powerful hedge trimmers available, and are particularly popular with professional gardeners and garden maintenance firms.
Like cordless machines, they offer unlimited mobility but with a longer running time. Unlike electric machines, they can be used safely in the wet. They are ideal if you have a large area to cover, and want to cover it as quickly as possible. But they do come with several disadvantages.
Disadvantages
Because they have a petrol engine, they are heavier and bulkier than the other types of trimmers. This can make them tiring to use for extended periods, and puts more strain on the operator. They can be particularly awkward to handle if you're working on a ladder. You are likely to need more physical strength and stamina to use a petrol hedge cutter than an electric or cordless model.
They are also noisy. If you are going to use one of these machines for a long period it is advisable to wear ear protectors
. They are less suitable for noise-sensitive environments, and could cause problems with neighbours if used thoughtlessly.
Having a petrol engine means that these models will require more maintenance than electric or cordless models. You will need somewhere safe to store the petrol, and to make sure that you have petrol available when you need it.
A petrol hedge trimmer can sometimes be difficult to start. Starting the engine with a pull is not as easy as pushing a button – although some models do offer easy starting features.
Feature Comparison Table for Petrol Hedge Trimmers
To help find the best petrol hedge trimmer to meet your requirements we have compiled the following table. You can compare the main features of the different models, and by clicking on the headings you can sort the different machines by blade length, cutting capacity, weight, engine size and price range.
Click on the link under the manufacturer heading for each model to find the latest availability and price on Amazon.co.uk.
Read our reviews to find the best petrol hedge trimmer for you.
Petrol Hedge Trimmer Reviews
Quick comparison: click on the link to go the full review.
Engine size: 26cc
Blade length: 600mm
Cutting capacity: 28mm
Weight: 5.3 kg
Price range: £150-170